As a part of our Be a Light Resource Series, The Essential Houdini is a free event that is open to the public. Experience magic right in front of your eyes!
The Essential Houdini
The true stories of Houdini – the American self-liberator, Europe's eclipsing sensation, World's handcuff king, Exposer of fraud, Original prison breaker, and Master magician. He is an inspiration to generations of children who dare to dream of the impossible. William goes beyond the myth and brings to life the true story of this American icon.
GASP at the story of his remarkable death. RELIVE his baffling magic and escapes. HEAR THE ONLY KNOWN RECORDING OF HIS VOICE.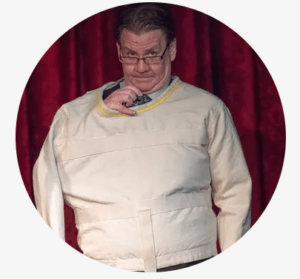 Born and raised in Chicago, William Pack is a magician, storyteller, and author. At 11 years old, William got his first job in a magic shop and has been performing ever since. William has won numerous awards for his magic and comedy performances. In 2001, he taught actor Will Smith sleight of hand for his portrayal of Muhammad Ali in the film, Ali.
WHEN?
Friday, October 13th
1:00 PM – 2:15 PM
WHERE?
Wesley Park Conference Room
8536 W Oklahoma Ave, West Allis
RSVP
This is a space-is-limited program. Please call (414) 607-4186 to RSVP. The deadline to RSVP is October 10th.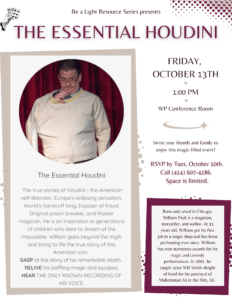 Join us as we get into "the spirit" for our big Be a Light event! If you have any questions, please call (414) 607-4186.